In 2021, the total number of the worldwide Internet users reached about 4.5 billion, 59% of the world's population. Many of these users rely on e-commerce platforms on daily basis for their online purchases. Researchers set the global e-commerce retail market at about 14% of the total global retail market. In China, this alone accounts for 35%!
>>ALSO READ: HOW TO IMPROVE YOUR DIGITAL STRATEGY IN CHINA WITH EMAIL MARKETING – EAST MEDIA
However, although these datas can be tempting, entering the Chinese e-commerce market can be very difficult and for many brands it can be a high-risk investment for which you need to be well prepared. The Chinese digital scenario is very different from what we are used to. Not only are the platforms not the same, but also online users have different habits and tastes.
That is why East Media and Arad Digital have prepared a report with 7 tips to follow to be successful in the Chinese e-commerce market.
Chinese e-commerce market: 7 tips to be successful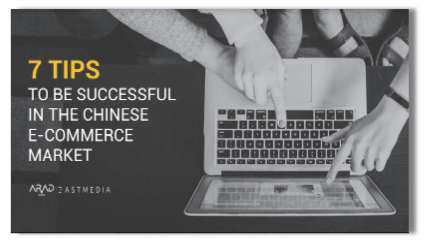 The report arranged by East Media together with Arad Digital, an independent digital consulting agency, is the guide through which we explain in 7 points how to implement a successful strategy in the Chinese e-commerce market.
Analyzing the Chinese e-commerce environment, the report provides in-depth information and an overview of the main features of the Chinese market to give you a well-rounded view of what it means and what it is necessary to enter the e-commerce market in China.
Inside the report you will find 7 useful tips on how to succeed in China's e-commerce market, a kind of check-list for your brand to assess its readiness.
Within the report you will find:
1. Doing your homework: what it means to adapt your strategy to the Chinese market
2. Being competitive
3. Meeting your customers' expectations
4. Have the right resources
5. Be on the right track: adapt to rapid changes in the Chinese market and respond promptly
6. Have a strategy
7. What is your brand strength?