How to position your brand and sell online in the Korean market?
How do you position your brand to sell online in a market as diverse as the Korean one?
East Media, in partnership with Koisra, an online business development consulting firm, is organizing a webinar to help companies understand how to position themselves and sell online in the Korean market. Thanks to the expertise of the speakers, participants will be able to learn the best practices of a successful business in South Korea.
In particular, they will discuss:
– how to position the brand on local digital channels;
– strategies for finding distributors and partners;
– insights for the development of a successful e-commerce.
Don't miss your chance to participate in an event held by industry experts on how to position your brand and succeed in South Korea.
The webinar will be held on Thursday, Nov. 17th, starting at 10 a.m. online on Zoom.
The speakers will be:
– Emanuele Vitali, "South Korea's digital scenario: main platforms for digital communication and e-commerce."
– Eyal Victor Mamou, "E-commerce in Korea – Practical Aspects."
– Ksenia Tsareva, "Opportunities for B2B companies in South Korea."
Attendance at the event is free, but seats are limited! Click below to reserve your spot for the webinar:
SIGN UP FOR THE WEBINAR ABOUT SOUTH KOREA!
South Korea is one of the most connected countries in the world and it ranks 4th in online sales volume, with nearly $160 billion in sales in 2021. To enter this market, it is crucial to know its digital landscape: only then you can position your brand and sell online to Korean consumers. Let's discover its characteristics together.
The Korean Digital Landscape
With 98% of the population using the Internet on a daily basis and 92% being active on social media, digital plays a central role for companies that want to conquer the Korean market. In fact, online advertising spending has been growing exponentially in the latest years. Furthermore, Koreans spend on average nearly 5 hours a day connected to their smartphones: keeping up with current trends is crucial for consumers in this country.
According to a research conducted by GWI, nearly 61% of Koreans search online for information about brands before finalizing a purchase: search engines, comparison sites, customer reviews, official sites and social networks are the most popular sources of information.
However, it is important to understand which platforms South Koreans use the most. And no, they are not necessarily the ones we are used to in the West. Google is replaced by Naver, the most widely used search engine and media ecosystem, which is very useful for companies to position themselves and make themselves known online. Instagram, Facebook and all other social networks are overtaken by KakaoTalk, a messaging platform similar to the Chinese app WeChat. Here, Koreans chat with their acquaintances, but they can also connect with official brand profiles and buy online through stores on the platform, which makes this app also a social commerce.
Register for the South Korea webinar to learn how to position your brand and sell online in the Korean market. Click on the image below to reserve your spot: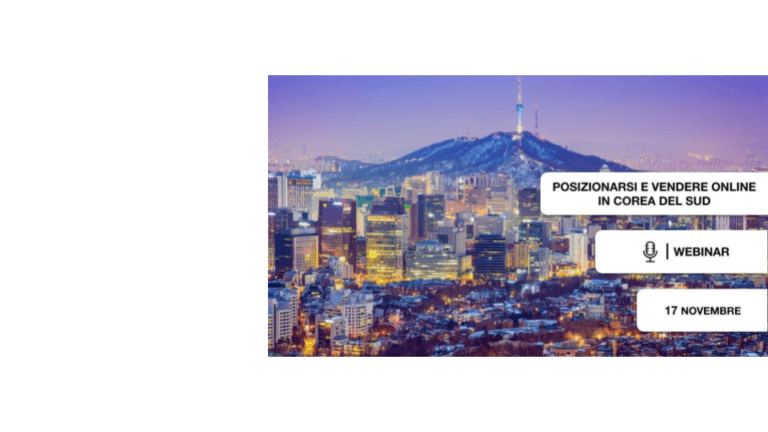 E-commerce in South Korea
When talking about selling online, we have to mention Korea's very rich e-commerce market: with an average annual shopping cart of more than $2,000, Koreans love to buy online. In fact, according to World Bank, nearly 73% of the population made at least one purchase on the Internet in the past year. E-commerce is popular because often there is free shipping and you can take advantage of coupons and discounts; plus, it is easy to read product reviews, check-out is simple, and shipping is very fast, even in just a few hours.
Certainly the widespread use of credit and debit cards and online payments has greatly simplified the spread of e-commerce. Korean consumers have long been accustomed to paying digitally, and coins are uncommon even in physical stores. In addition, the logistics infrastructure related to shipping in Korea is very well developed. Because of their busy lives and long working hours, many Koreans find it more convenient to order online rather than going to the stores.
However, Amazon does not dominate the marketplace landscape; on the contrary, this platform is not used at all. There are other players in the Korean market that are much more popular and efficient: Coupang, SSG.com, YES24 are just some of the most popular platforms in Korea, with millions of monthly visits and huge turnovers. The most popular product categories are fashion, electronics, personal care, and design.
Don't miss the webinar on how to position your brand and sell online in the Korean market! Click below to reserve your spot: