In this article you will discover what Baidu My Business is and how it can be useful for your business. Baidu is China's leading search engine, the equivalent of Google for us Westerners. And as such, it is a great tool to increase the visibility and credibility of businesses in the eyes of Chinese consumers. Read on to explore its potential and services!
Baidu: China's first search engine
When in Rome, do as the Romans do. That's why it is good to know that Google is not used in China. Yes, the American giant that everyone knows and uses in the West is not available Beyond the Wall. But, just like for other platforms, there is a viable and respectable substitute for Google! It is Baidu, the leading search engine in China with a 79.5% market share. This number gives us a good idea of how predominant is Baidu compared to every other search engine. It is also proven by the fact that as of June 2022, it has reached 628 million Monthly Active Users, 84% of whom make daily accesses to the search engine. Consider that Google's market share in China, on the other hand, stands at 3%, which results in a much smaller audience than Baidu.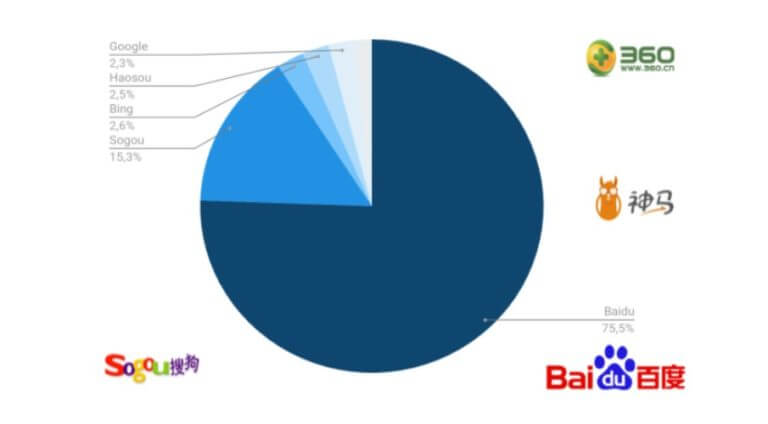 Why choosing to use Baidu in China
Including Baidu in location marketing strategies in the Chinese market is therefore critical to reach the majority of the population Beyond the Wall. Location marketing is a set of actions initiated to promote business activities. The goal, as we will see, is to be found more easily by potential customers. But these are not the only benefits brought by using this search engine. So, let's see what are the benefits of having a ranking on China's top search engine:
– it guarantees a fast connection to users (thanks to the hosting in Hong Kong or mainland China), which reduces the loading time and thus also reduces the bounce rate;
– it allows foreign brands to position themselves in the Chinese market (especially if they are not yet known to the public), thus increasing their visibility and reputation;
– Baidu provides a touchpoint for users to gather information about the brand;
– it generates leads to social media (especially in the B2B world);
– it enables investment in targeted advertising, thus allowing the desired audience to be reached;
– Baidu offers an optimal user experience, which is important when dealing with an increasingly demanding Chinese audience.
The multiple services of the Baidu ecosystem
What you may not know is that Baidu, in addition to being a great search engine, is also able to offer its users as many as 60 different types of services. In fact, its offers are numerous: from search services, to learning or social-related services. Or even music, videos, games, news, forums, translations and maps. It is precisely the maps that are part of that functionality that we can call Baidu My Business. A kind of Chinese Google My Business, to be clear. As well as a useful tool for brands that want to make themselves known (and found!) in the Land of the Dragon.
What is Baidu My Business
Baidu My Business is a tool that allows businesses to manage their online presence, making their business easily visible and traceable for Chinese users. By activating a Baidu My Business account you will be able to enter and manage all the information related to your business. This includes the address of your locations and stores, opening hours, contact information, and website. In addition, you can add photos to demonstrate the location and products/services you are selling. So, this is a very helpful feature for potential customers who want to easily reach your business and find information about it.
At the same time, Baidu My Business allows customers to leave comments and reviews. This last point should not be underestimated. Especially in a country like China, where word of mouth and positive experiences from other users are essential to increase trust in the brand. In fact, positive reviews enhance the possibility of converting an interest into a sale. This is because they increase the brand's credibility in the eyes of consumers.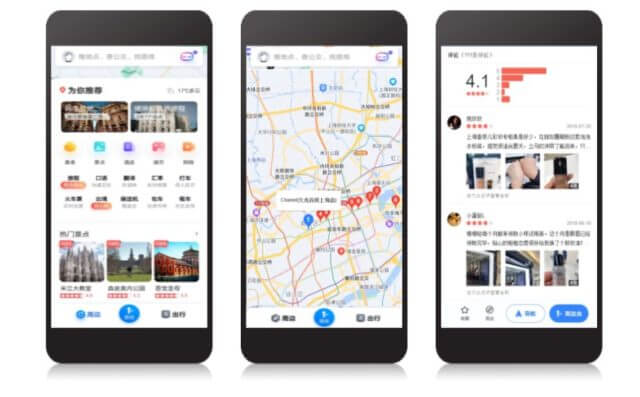 In short, Baidu My Business is a powerful location marketing tool that boosts and enhances companies' online reputation. And since it is present on the most used search platform in China, it enables more traffic and thus a higher chance of conversion.
Baidu My Business VS. Google My Business
While reading the description of this Baidu feature, you must have thought of Google My Business. The association is correct: in fact, we can say that Baidu My Business is its Chinese counterpart. As you might know, the vast majority of businesses have a presence on Google My Business. This is because it is known to be a powerful tool that can increase online visibility. And if this is true in the West, it is even more so in China. Here, the population is now used to a very high level of digitization in all spheres of life. Chinese people are used to using Baidu My Business when they are looking for products or services. And this happens as much within China as abroad, when they travel for leisure or business. But let's have a look at the differences between the two services.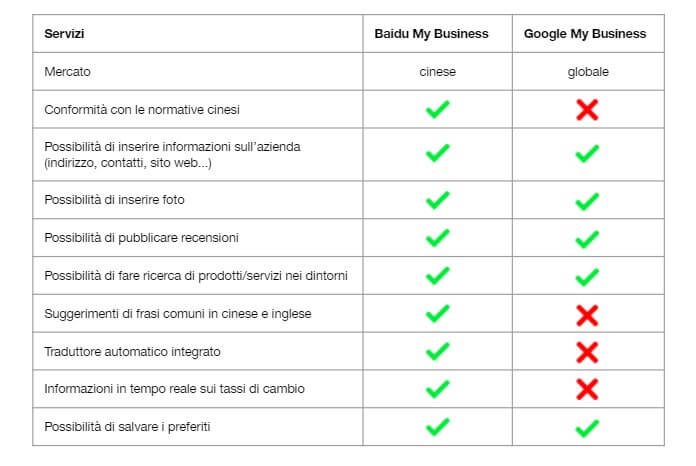 As you can see, the features of the two services are quite similar. However, Baidu My Business has a number of additional features to facilitate the online and offline user experience for Chinese users (translation, exchange rates, etc.). Most importantly, it remains the only tool used by the Chinese public to search for nearby businesses and information. Therefore, if the goal is to be found by potential Chinese customers, its use should be considered. To conclude, let's see for what types of businesses this service is recommended.
Why you should activate Baidu My Business
Let's not forget that China's digital ecosystem is heavily based on sharing information, reviews, and user opinions. In the midst of all the information offered by the Internet, finding a reference point about a business is very important to reassure the audience. Especially for a foreign and little-known company. That is why Baidu My Business can prove to be a powerful tool to cement Chinese consumers' trust in a company.
As you can imagine, Baidu My Business is an effective tool for the entire retail world. Indeed, with this service you have the opportunity to show consumers all the outlets where they can find a given product. Its activation in the world of small and medium-sized businesses is very effective as well. These companies would indeed have the opportunity to show their locations, as well as their opening hours. Similarly, it is useful for larger enterprises to have a space where they can show their presence to the world and tell about their service. In short, Baidu My Business is a versatile tool that can embrace the needs of any type of business and adapt to different types of products and services. Furthermore, it is a powerful tool to improve the visibility of one's business, both online and offline.
---
The 13th Annual Report of the Italy China Council Foundation – ICCF – is Italy's most authoritative and comprehensive guide to the political, economic and business access scenario in China. Download the excerpt prepared by East Media on Digital Marketing in China!