JD.com is one of the most mentioned names when it comes to selling products online in China. The reason is simple: after Tmall (of the Alibaba Group), it is the leading player on the Beyond the Wall B2C e-commerce market. Let's see what it is, how it works, and most importantly, what advantages it can have for brands' export strategy to China.
What is JD.com (京东)
Formerly known as Jingdong Mall and 360buy.com, JD.com is a marketplace established in 1998 that is part of the Tencent Group. It was initially conceived as an online store for technology products, while today it has a varied offering. Among the categories featured are cosmetics, fresh food, clothing, mum & baby products, accessories, and much more. JD.com, therefore, has evolved into a true generalist platform, offering products of all kinds to Chinese consumers.
JD.com is headquartered in Beijing and is listed on the NASDAQ listings. According to the Fortune Global 500, it is among China's 163 companies in terms of total revenue. In the fragmented Chinese e-commerce landscape JD.com has as much as 24.4% market share, the second highest share after Tmall. There are currently about 569 million active users. They are distributed rather evenly across China's national territory, with a concentration in northern China and Sichuan province. The most active age groups on the platform are Millennials and Generation X, thus young people under 40.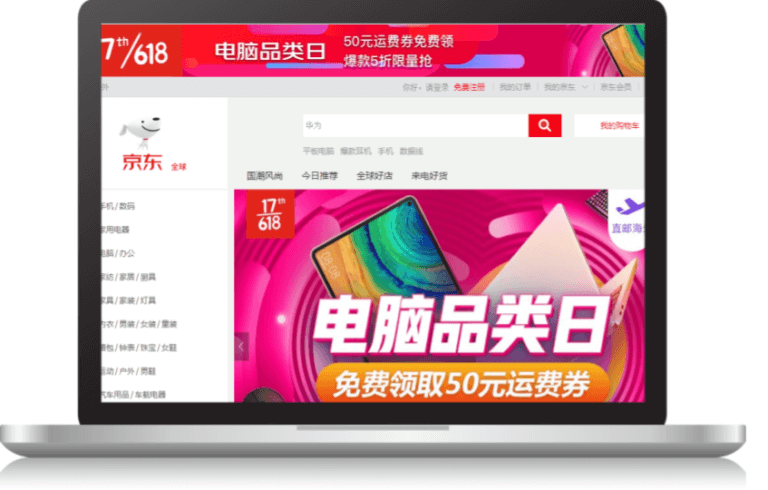 JD.com homepage
How JD.com works
JD.com operates on the basis of two models:
Pre-purchase of products from the supplier (B2B2C model). JD takes responsibility for aspects such as international logistics, customs aspects, warehousing, product page design, marketing, and post-sale services. This mode is recommended for brands that are already quite well-known in China. It also ensures an excellent user experience for customers.
Opening a store for brands (marketplace model). In this case, it is the brands that directly open their own online store on the platform. In return, JD.com handles customer service, marketing infrastructure, and other types of services. It should be remembered that JD.com charges sellers a fee for their services and collects a commission on sales. The latter can range from 2% to 10% depending on the product category.
In both cases, final payments from users are made through the JD Pay and WeChat Wallet electronic payment systems.
Distribution and delivery of products
As mentioned above, JD.com handles the transportation of goods, fulfillment of customs obligations, warehousing, and delivery to the buyer. In fact, logistics is one of the aspects for which the marketplace is most famous. In fact, it has as many as 200 warehouses and more than 5,000 pickup points throughout China and is known for its speed of delivery. 85% of products are shipped directly within the same day, with the remainder arriving at their destination in just 1-2 days.
JD Worldwide
JD.com also has a cross-border platform, JD Worldwide. Through it, Chinese consumers can purchase products from international brands that do not have a physical presence in China. In fact, shipping is done directly from the foreign warehouse, thanks to the support of many international shipping and logistics services. Again, brands can open actual online stores to showcase their products. The types of stores that can be opened are 4. Flagship store, outlet store, franchised store and exclusive store. For the time being, payments are only possible in USD, but the procedure is very agile and does not create any problems. In addition, JD.com in July 2022 launched a Plus Luxury membership program. Registered members can receive coupons from more than 300 official flagship stores of luxury brands, as well as premium services and exclusive VIP events.
Also in 2022, several foreign luxury brands set up flagship stores on JD.com. These include: Celine, La Mer, Maison Margiela, Moose Knuckles, Maison Kitsuné, MAC, and Armani.
Integration with WeChat
Since 2014 JD.com has partnered with the giant Tencent, which allows it to act on the two social platforms WeChat and QQ. Thanks to this relationship, products on JD.com can also be searched by WeChat, which then offers JD.com's product pages as search results. Moreover, in 2020, again in close cooperation with Tencent, the JD mini-program Open Platform was also launched. Through it, sellers on JD.com will be able to open their own mini-programs to sell within WeChat as well. Not only that, the service is also open to various external partners from other sectors of the JD ecosystem. This integration between the platforms creates great opportunities for businesses. In fact, in addition to expanding their customer base on WeChat, they are also working on traffic on the JD.com store.
One of the first brands to take advantage of this possibility was Burger King, which launched its 2020 mini-program. Through it, customers can shop at the fast food chain's restaurants using their JD.com credentials. This also means tapping into their accumulated points and the payment system typically used on the marketplace. The brand, for its part, is supported by JD.com not only in transactions, but also in marketing, logistics, and a range of extra services.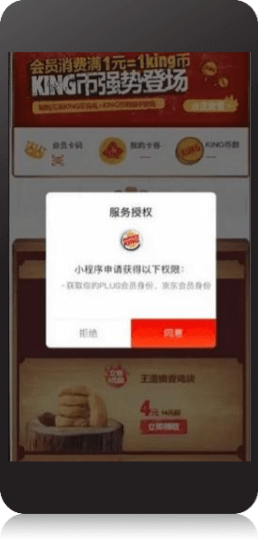 Burger King's WeChat mini-program. Source: JD.com
In June 2022, JD.com extended its partnership with tech giant Tencent for another three years in an agreement that will continue to offer WeChat users easy access to the shopping platform, helping it maintain advantages in driving online sales. With the renewal of this cooperation, quick access to JD.com on Tencent's WeChat app will remain. App that has 1.29 billion active users each month.
Promotion of products on JD.com
JD.com is one of the most competitive Chinese platforms because of the high number of sellers and SKUs (stock keeping units). As a result, sellers who do not invest in promoting their items will struggle to be very successful. Therefore, brands must develop strategies to drive traffic to their store pages on the platform. This can be achieved by optimizing product pages with a proper SEO strategy. Additionally, one can make use of appropriate advertising services.
Finally, there is the option to launch integrated marketing strategies involving social platforms and Key Opinion Leaders (Chinese influencers). In addition to engaging with the WeChat's very large audience, in fact, JD.com has already experimented with collaborations with KOL on Weibo to create very sustained traffic on JD.com. Another platform with which it has recently started collaborating is Kuaishou. Through this strategic partnership, in fact, the short video app will allow users to finalize purchases within it. At the same time, live streaming and videos posted on the App will be used to reinforce the marketing strategies of brands featured on JD.com. Finally, we cannot fail to mention Douyin, another top player among short-video Apps that has already collaborated with JD.com in the past to promote the purchase of its products.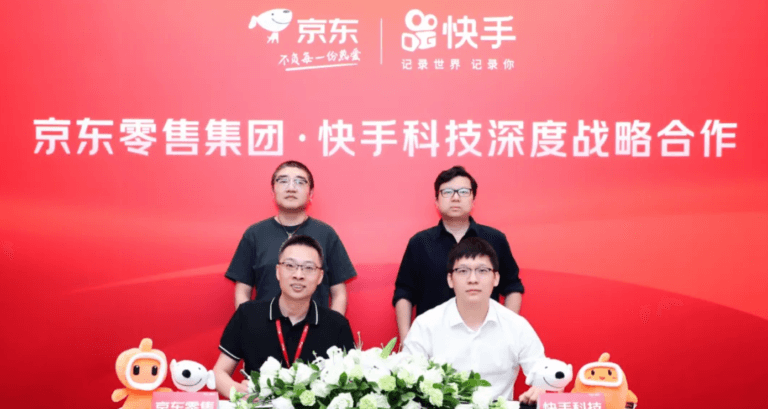 Announcement of the strategic partnership between JD.com and Kuaishou with the signing by Lei Xu, CEO of JD Retail, and Su Hua, founder and CEO of Kuaishou. Source: JD.com
>>ALSO READ: KOL "KEY OPINION LEADER": INFLUENCERS IN CHINA
JD.com's strength: reputation
Although it is second to Tmall, JD.com has a very good reputation for its logistics system. The quality of products offered by the platform is also considered very good. Not for nothing the slogan of JD.com is "quality first." Finally, it ensures strict inventory control, which wards off the danger of counterfeit products. This problem is indeed very significant in China. These three factors, then, combine to solidify the platform's good reputation before consumers and customers. Of course, competitive product prices and the breadth of supply also play a big part.
Why choose JD.com
This marketplace is an indispensable channel for quickly getting your brand into the Chinese e-commerce world. This is evidenced by its very large user base, growing turnover, excellent reputation and wide range of products it offers. It is, therefore, one of the most competitive platforms for brands that want to export. Of course, the best option would be to also have a good budget to invest in marketing to gain more visibility. In fact, as we have seen, an integrated marketing strategy can considerably increase traffic on product pages. Furthermore, it is increasingly necessary in a country like China, where users travel between different platforms before finalizing purchases.
---
The 13th Annual Report of the Italy China Council Foundation – ICCF – is Italy's most authoritative and comprehensive guide to the political, economic and business access scenario in China. Download the excerpt prepared by East Media on Digital Marketing in China!